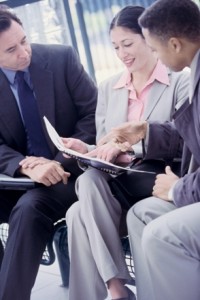 Content management practices and goals vary with mission. News organizations, e-commerce websites, and educational institutions all use content management, but in different ways. This leads to differences in terminology and in the names and number of steps in the process.
For example, an instance of digital content is created by one or more authors. Over time that content may be edited. One or more individuals may provide some editorial oversight thereby approving the content for publication. Publishing may take many forms. Publishing may be the act of pushing content out to others, or simply granting digital access rights to certain content to a particular person or group of persons. Later that content may be superseded by another form of content and thus retired or removed from use.
Corporate branding is the practice of using a company's name as a product brand name. It is an attempt to use corporate brand equity to create product brand recognition. It is a type of family branding or umbrella brand. Disney, for example, includes the word "Disney" in the name of many of its products; other examples include IBM and Heinz. This strategy contrasts with individual product branding, where each product has a unique brand name and the corporate name is not promoted to the consumer.
Corporate branding can result in significant economies of scope since one advertising campaign can be used for several products. It also facilitates new product acceptance because potential buyers are already familiar with the name. However, this strategy may hinder the creation of distinct brand images or identities for different products: an overarching corporate brand reduces the ability to position a brand with an individual identity, and may conceal different products' unique characteristics.
Corporate branding is not limited to a specific mark or name. Branding can incorporate multiple touchpoints. These touchpoints include: logo, customer service, treatment and training of employees, packaging, advertising, stationery, and quality of products and services. Any means by which the general public comes into contact with a specific brand constitutes a touchpoint that can affect perceptions of the corporate brand.